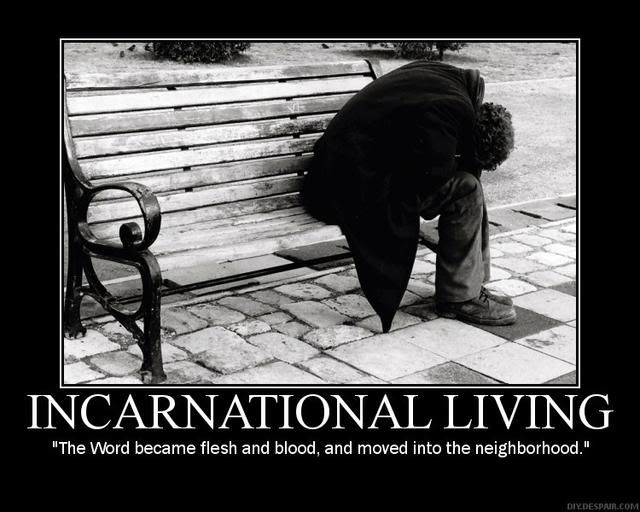 "The Word became flesh and made his dwelling among us. We have seen his glory, the glory of the One and Only, who came from the Father, full of grace and truth." – John 1:14
"Incarnational Living" roughly corresponds to a catch all phrase in emerging circles for "active Christ likeness". It describes an aggressive attempt to live a life that exemplifies Jesus in the community. In short, incarnational "livers" take the question "What Would Jesus Do?" seriously.
The incarnational liver sees parallels between Jesus life and their own. Jesus, who is not of this world, took a humble form as to actively show love and pursue justice (culminating in his death). So the incarnational liver sees themselves as not of this world but rather as a humble vessel of Christ in this world; on a mission to show love and make justice. In other words, the incarnational liver is a "little modern day Jesus".
The incarnational liver is active. They passionately search out opportunities to express love and bring justice. They do not wait for an opportunity to find them. They consider their life a mission. It is a mission to show the modern world Christ – to introduce them to Him through the example of their own lives as to initiate an experience with their creator by proxy. They not only tell people about God, they show them him. They show His love by giving it, sacrificially if necessary and without hesitation. They show His justice by fighting unrighteousness. By being known they give people a "taste of God".
The incarnational liver is a Radical Christian. They are "God in the neighbourhood". They influence the world around them. People are not the same after knowing them. They are an "incarnation of God" through the indwelling of the Holy Spirit. That's a lot of responsibility. To seek out the most despised people in society and find the best way to love them. To make fellowship with the outcasts. To stand up against corrupt and discriminating social structures. To give until it hurts and then give more.
I want to be that type of Christian. I want to be a bearer of Christ's image. I want to find where it hurts the most and be there. I want to show people Jesus by being like him. When people ask "What was Jesus like?" I want to respond, "Let me show you." He lived a revolutionary life – a counter cultural life. He did small things with great love and in the process gave them what no great action could – himself.
I want to live like that.